A quarterly publication in English released by the Directorate of Arecanut and Spices Development, Ministry of Agriculture & Farmers Welfare (Department of Agriculture, Co-operation & Farmers Welfare), Government of India, concerned with the development of Arecanut, Spices, Medicinal and Aromatic Plants in the country, is intended for wide circulation among farmers, extension workers, scientists, exporters, industrialists etc.
The journal contain popular articles on scientific cultivation, processing and marketing aspects of the various crops.
The latest issue (Vo. 21 No. 3 July-September 2019) of the journal is indexed with :
| | | |
| --- | --- | --- |
| Sl No. | Article | Authors |
| 1 | Grafting studies for prodution of bush pepper | Sarga George and V.S. Sujatha |
| 2 | Nutrient management and plant protection in ginger | H.R. Bhoomika et al. |
| 3 | Economics of small cardamom in Idukki District | A. Indusree et al. |
| 4 | Prodcution technologies for sustainable cumin production in Rajasthan | M.L. Mehriya et al. |
| 5 | Demonstration of improved cultivation of organic turmeric and adoption of value addition for enhancement of tribal livelihood in Bilaspur district | R.K.S. Thiwari et al. |
| 6 | Bhoot Jolokia: A potential spice crop of North-East India | Apurba Das et al. |
| 7 | Large Cardamom- Harvesting and curing technology | A.K. Vijayan et al. |
| 8 | Effect of micronutrients on growth characteristics and seed yield of Kasturibhendi | G.S. Pawar et al. |
SUBSCRIPTION DETAILS
Subscription rates (annual)

Inland

(4 issues)

Rs 200/-

Single Copy

Rs 50/-

Three years
Rs 500/-

Foreign

Single Copy

US $ 5.00

Annual

US $ 20.00
Subscription may be done by paying the amount online at Non Tax Receipt Portal (NTRP) at https://bharatkosh.gov.in/ and send the receipt generated (e-receipt) after making payment by email to spicedte@nic.in or by post to the Director, Directorate of Arecanut and Spices Development, West Hill P.O., Calicut 673 005. In the email / letter, please mention your complete postal address with pincode for sending the journals. A detailed user guide showing step by steps to be followed for registration and online payment at NTRP is attached below.
Download User guide for registration and payment at NTRP.
NO DEMAND DRAFTS, CHEQUES, MONEY ORDER OR CASH WILL BE ACCEPTED BY THIS DIRECTORATE FOR THE SUBSCRIPTION OF THE JOURNAL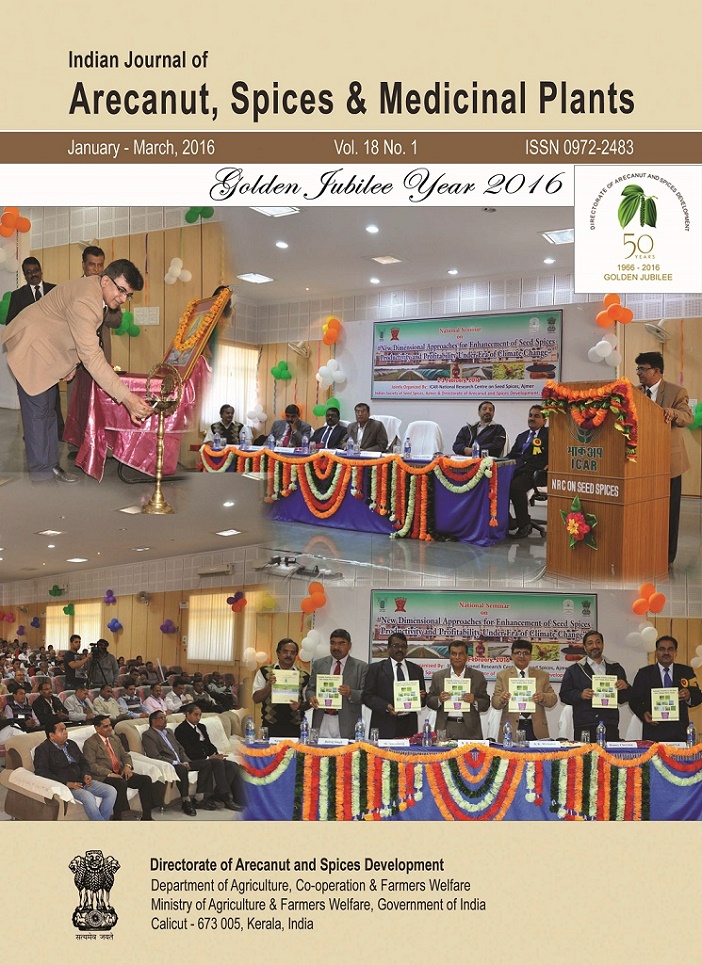 ARTICLES ARE INVITED
Instructions to contributors of articles in the journal
Manuscript copy of the article is to be submitted in duplicate, typed neatly in double space on one side of art paper with margins of 3.5 cm and may not exceed 12 pages. All pages (including tables, legends, references etc.) should be numbered consecutively.
The material may also be sent in MS Word format in CD or through email spicedte@nic.in for early acceptance.
The matter is to be arranged in the following order:
Title in capital letters

Name of the authors

Introduction highlighting the importance of the subject

Conclusion

Tables, illustrations, photographs etc. should be cited in the text appropriately. Line drawings must be in black colour. Photographs in colour or black and white with title indicated clearly on the back.

Authors full address to be given at the end of the first page.
Preference will be given to articles in bilingual i.e., Hindi and English.
A certificate may also be furnished to the effect that the article submitted has not been published in any other journal even in any form.
Articles will be acknowledged immediately on receipt and acceptance or otherwise will be communicated with in a quarter.
ADVERTISE IN Indian Journal of Arecanut, Spices and Medicinal Plants
Advertisement tariff rates (annual)
| | | |
| --- | --- | --- |
| Insertions | Per insertion | Four insertions |
| Back cover ( Black & White) | Rs 2000 | Rs 7500 |
| Colour | Rs 4000 | Rs 15000 |
| Inside cover (Black & White) | Rs 2000 | Rs 6000 |
| Colour | Rs 3000 | Rs 10000 |
| Ordinary page (Black & White) | Rs 1500 | Rs 4500 |
| Ordinary page (Colour) | Rs 2000 | Rs 6000 |

For further details contact :
The Director,
Directorate of Arecanut & Spices Development, West Hill P.O., Calicut 673 005 , Kerala
Phone: 0495- 2369877, Fax: 0495-2765777
e-mail: spicedte[at]nic[dot]in